Project
New Mobile App Design
Timeline
10 Weeks,
OCT 2021
About the Project
Perfect Fit is an iOS mobile app that helps caregivers of special needs children find local recreational programs and make meaningful contributions to their growth.
It helps parents support their child's developmental needs by providing activities that develop their child's communication, social and physical skills.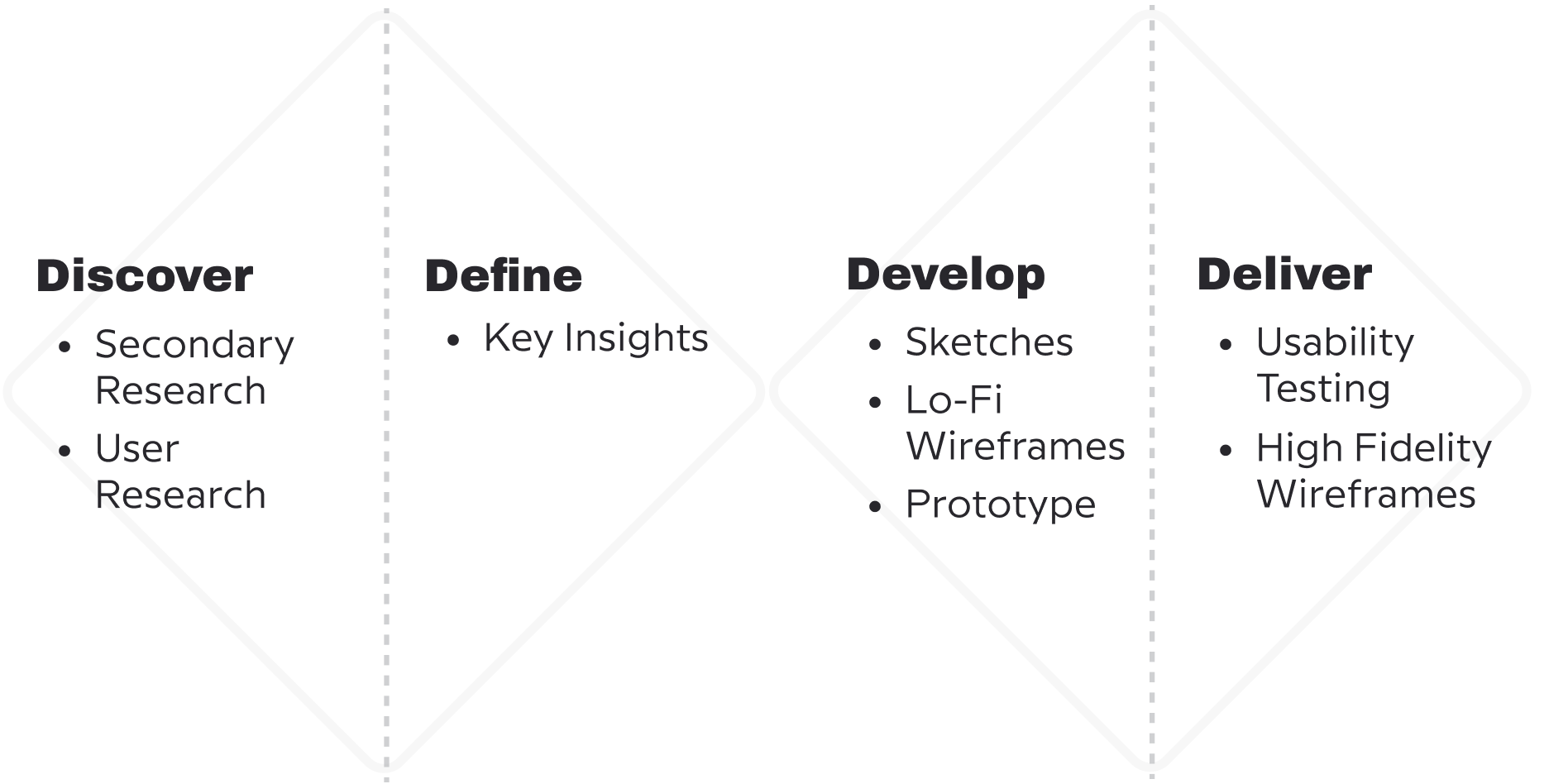 Method
I followed the Double Diamond Methodology as it captures the complexities of human-centered-design by exploring an issue widely before focused actions.
The Problem
Growing up, my parents and I had a difficult time finding an art program for my sister with down syndrome. The class sizes were too large, and she couldn't connect with the teachers. Having first hand witnessed how difficult it can be to find a program for a special needs child, I was inspired to create a digital solution that made this process easier.
The benefits of joining community activities are the same for all children. But studies show children with special needs have lower participation rates in community programs.

Determining my users
According to the Pew Research Center, millennial mothers account for 80% of all babies born, including those with disabilities.
Millennials are the most tech-saturated generation of parents yet. They are twice as likely to refer to digital resources for parenting advice than ask family and friends.
If technology is their go-to source, then how are they using it today to find programs for their child?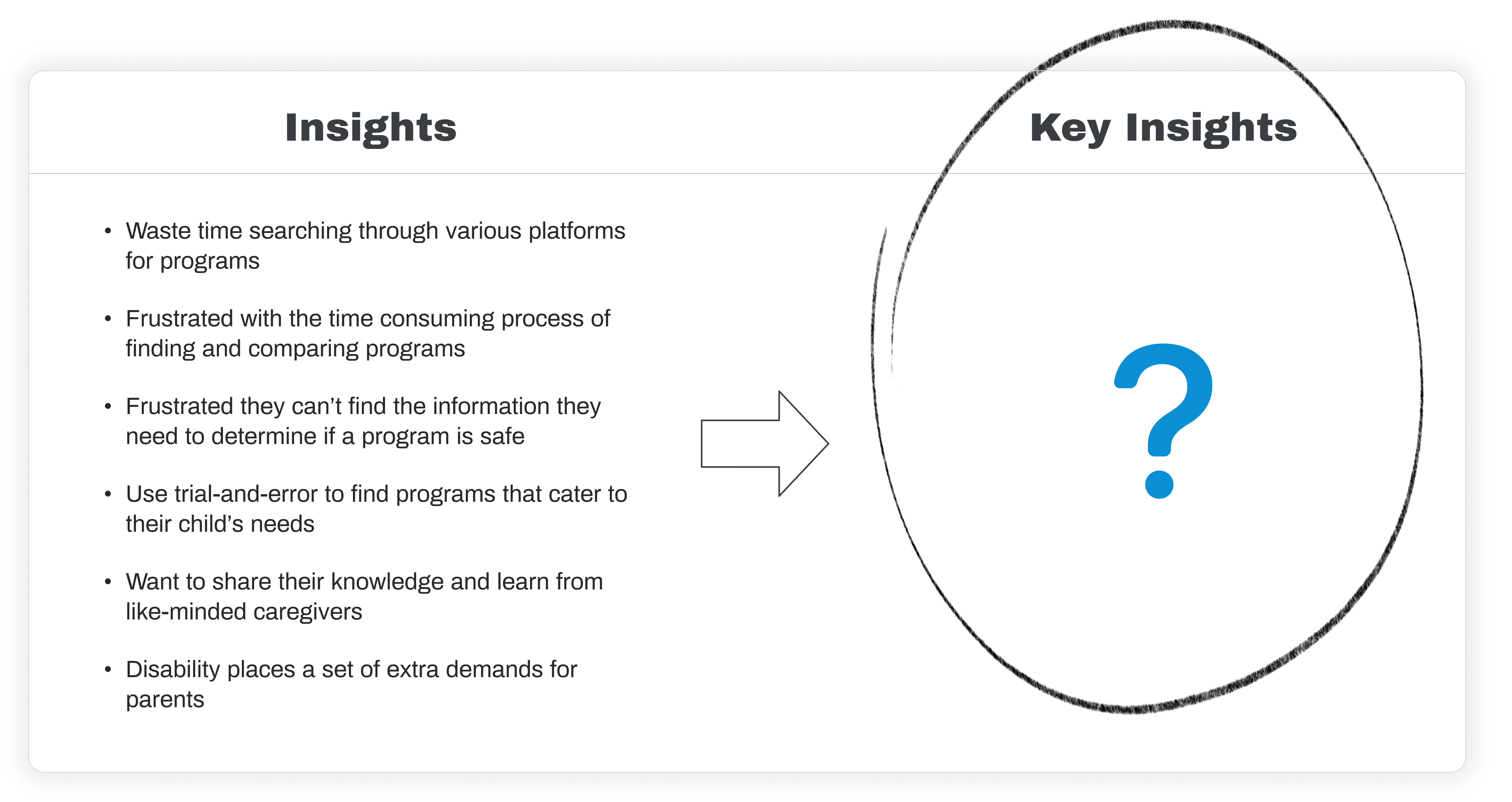 Understanding millennial parents
I conducted five 30 minute user interviews with millennial mothers of special needs children.
I discovered safety was every parent's biggest concern and they put a lot care into finding programs that cater to their child's needs. They need support finding and determining if a program is good fit for their child.
In hindsight, I didn't source an appropriately diverse group of interviewees and missed an opportunity to gather meaningful insights. This undoubtedly biased my results and the quality of my design.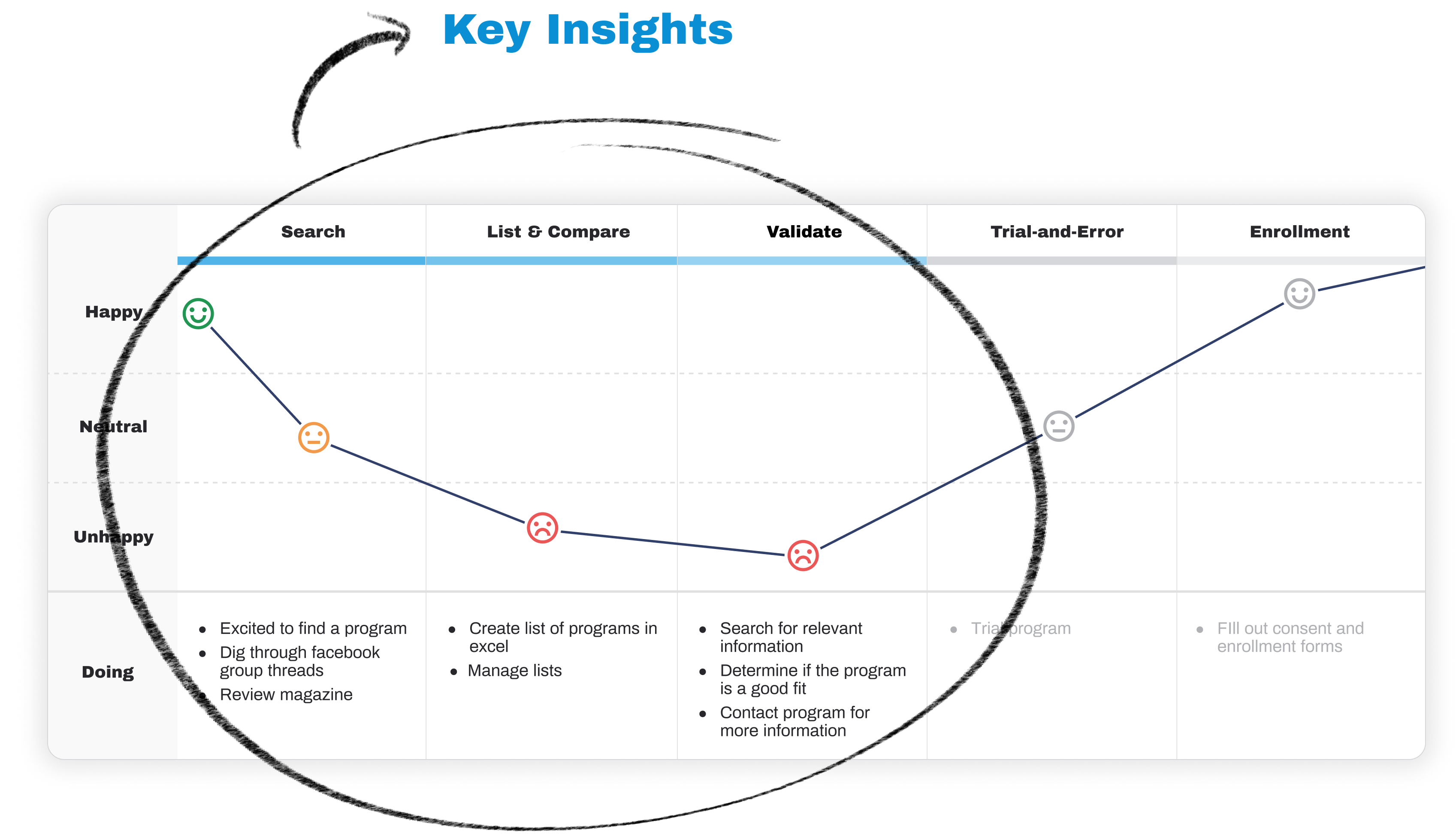 Walking a mile in my user's shoes
Mapping out my user's journey on a journey map clarified what their main pain points are.
Because parents prioritize their child's safety, they spend the most time finding and then determining if a program is the right fit for this child. More times than not, the programs they find and don't work out. They repeat this part of the journey several times, understandably becoming more frustrated each time.
I chose to focus my app's main feature on alleviating these pain points as it will make the most impact in helping my user's achieve their goal.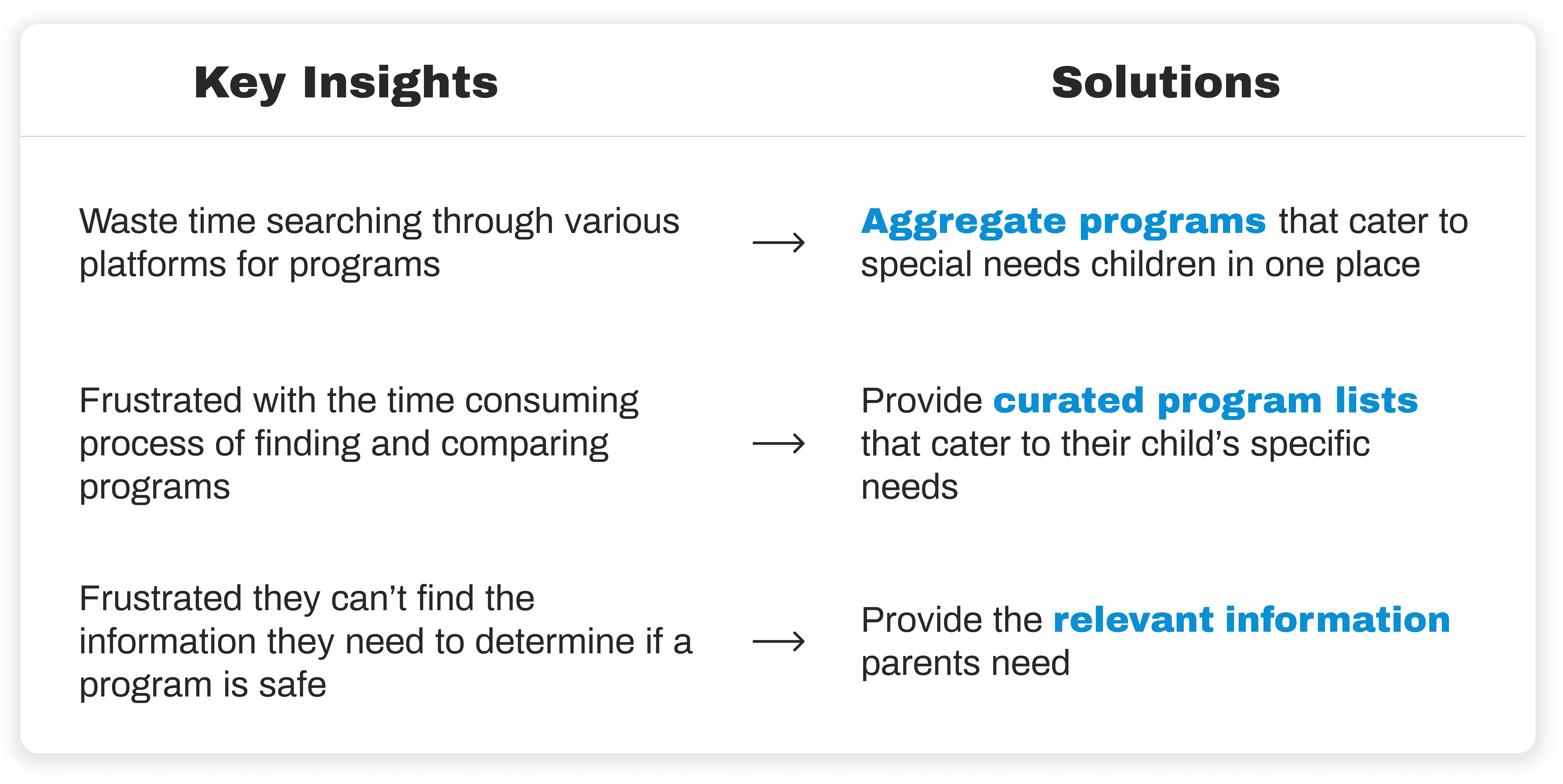 Ideating solutions
Now that I've determined the key pain points my app will address, I ideated solutions.
Given that there are no digital products that curate a list of programs that cater to a special needs child, this is the core value proposition of my app

Mapping out the user flow
Before beginning any sketches, I determined the minimal steps my users would take to achieve their goal with my digital product. Minimizing data input and simplicity were the main principles I focused on during this step.
Exploratory to Solution Sketches
Drawing inspiration from my UI Inspiration board, Material Designs, and Human Interface Guidelines, I trialed different components in my design solutions.
Filter chips, anchor links, checkboxes, and choice chips were some of the many components explored in the sketches below. I also analyzed the functionalities of commonly used millennial apps with complex search filters to understand my user's mental models for easier adoption.
Building the right thing
It became clear that my goal is to empower caregivers of special needs children. The following core features help caregivers find programs that are safe and meet their child's needs: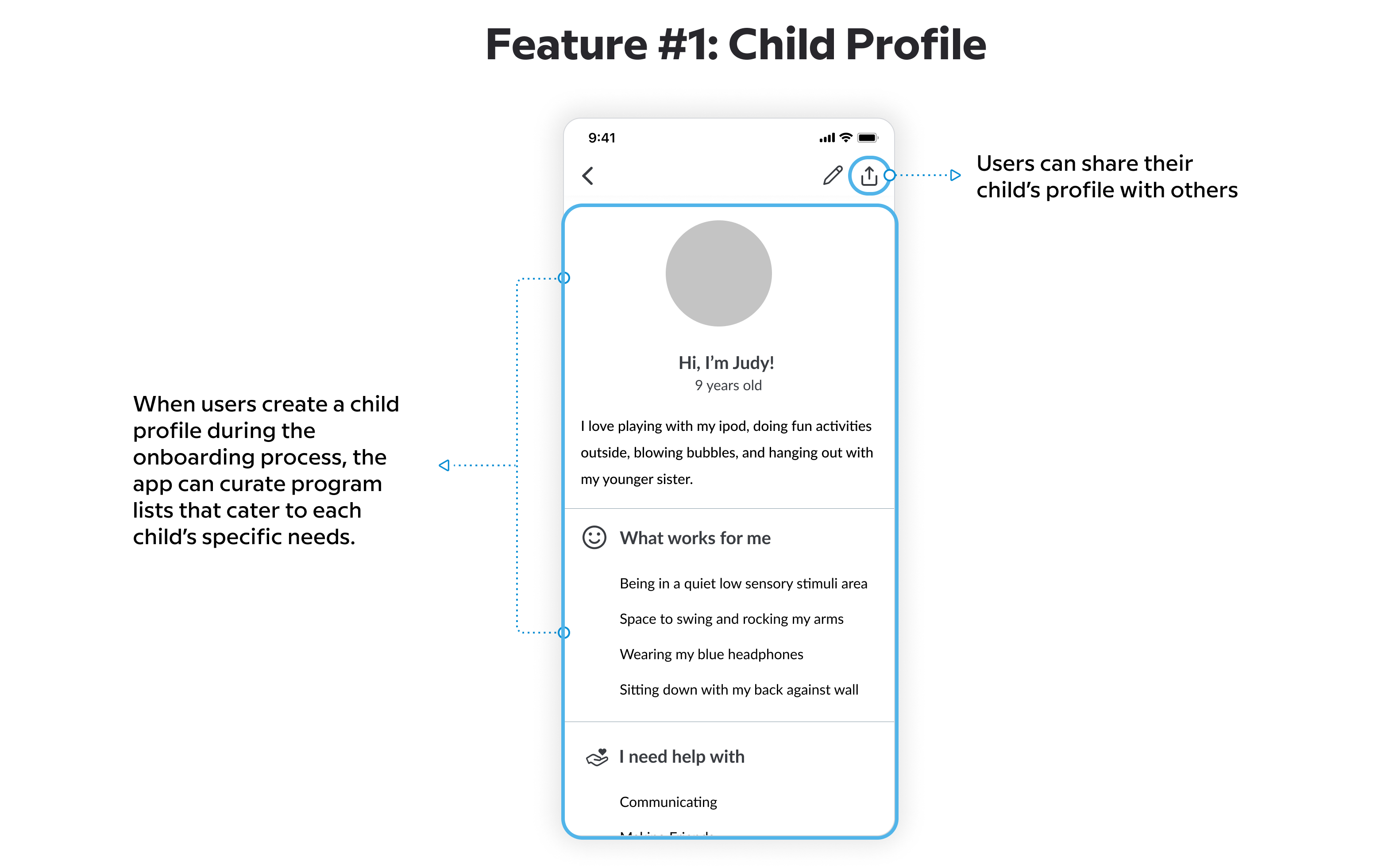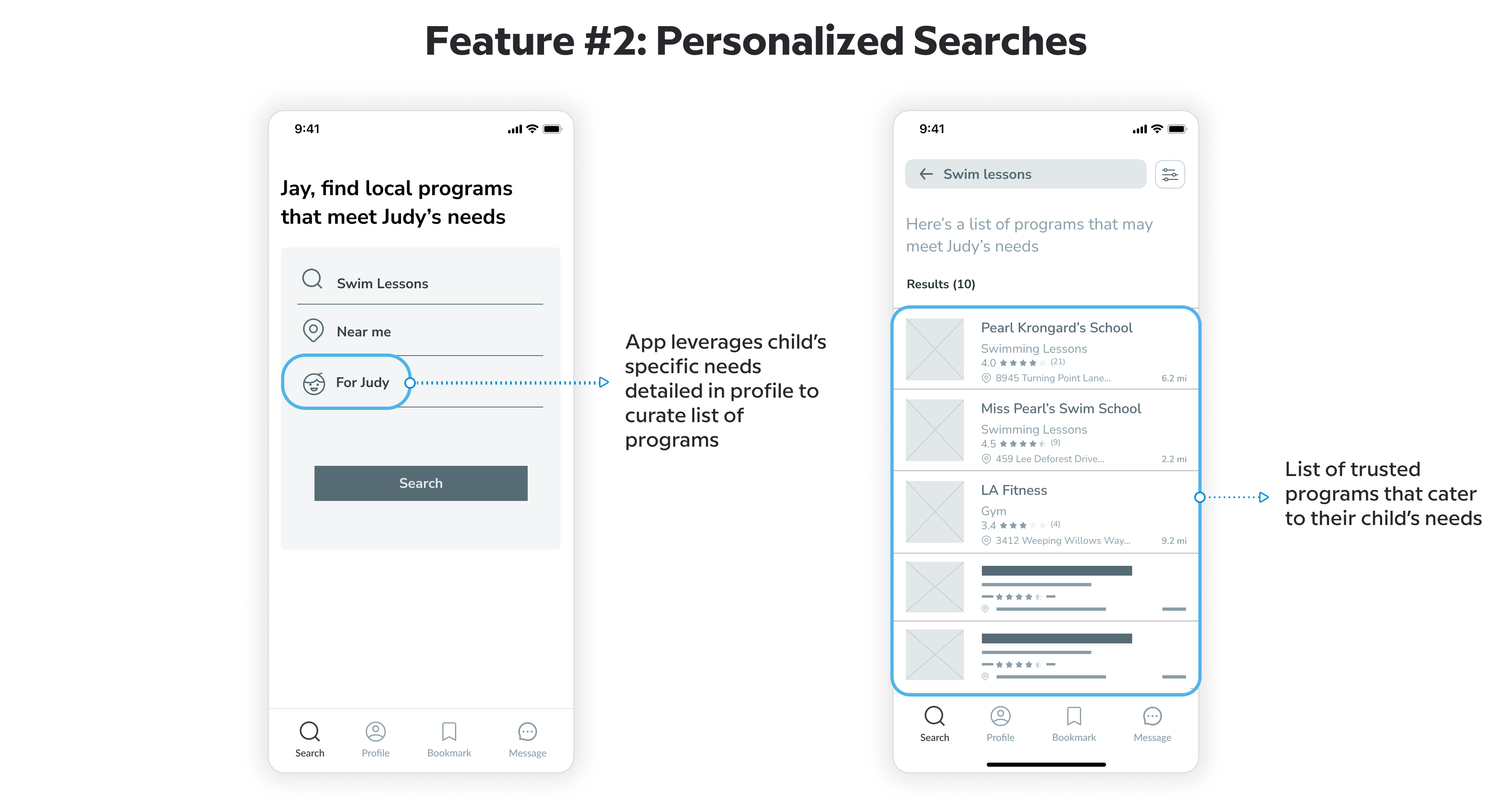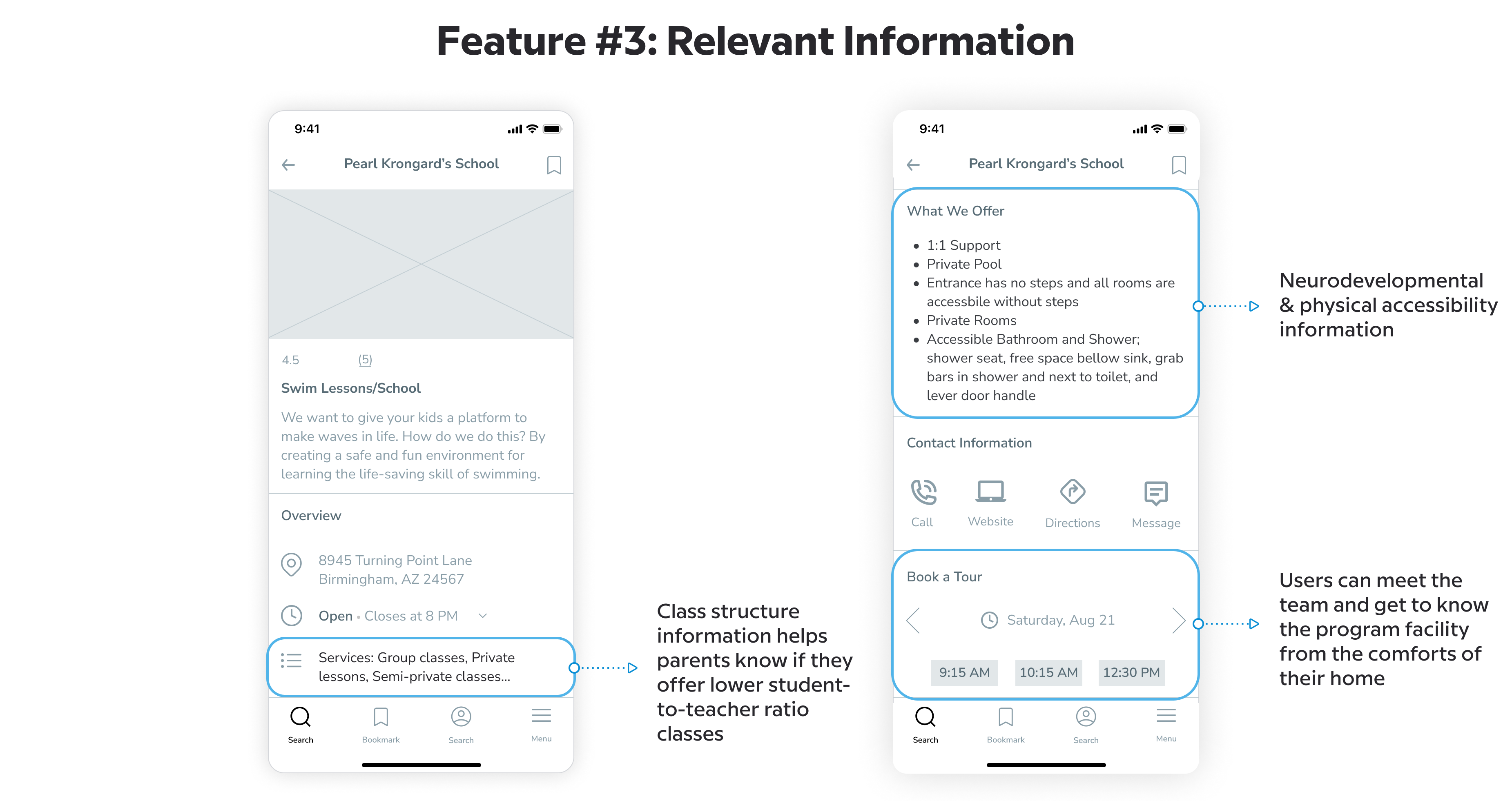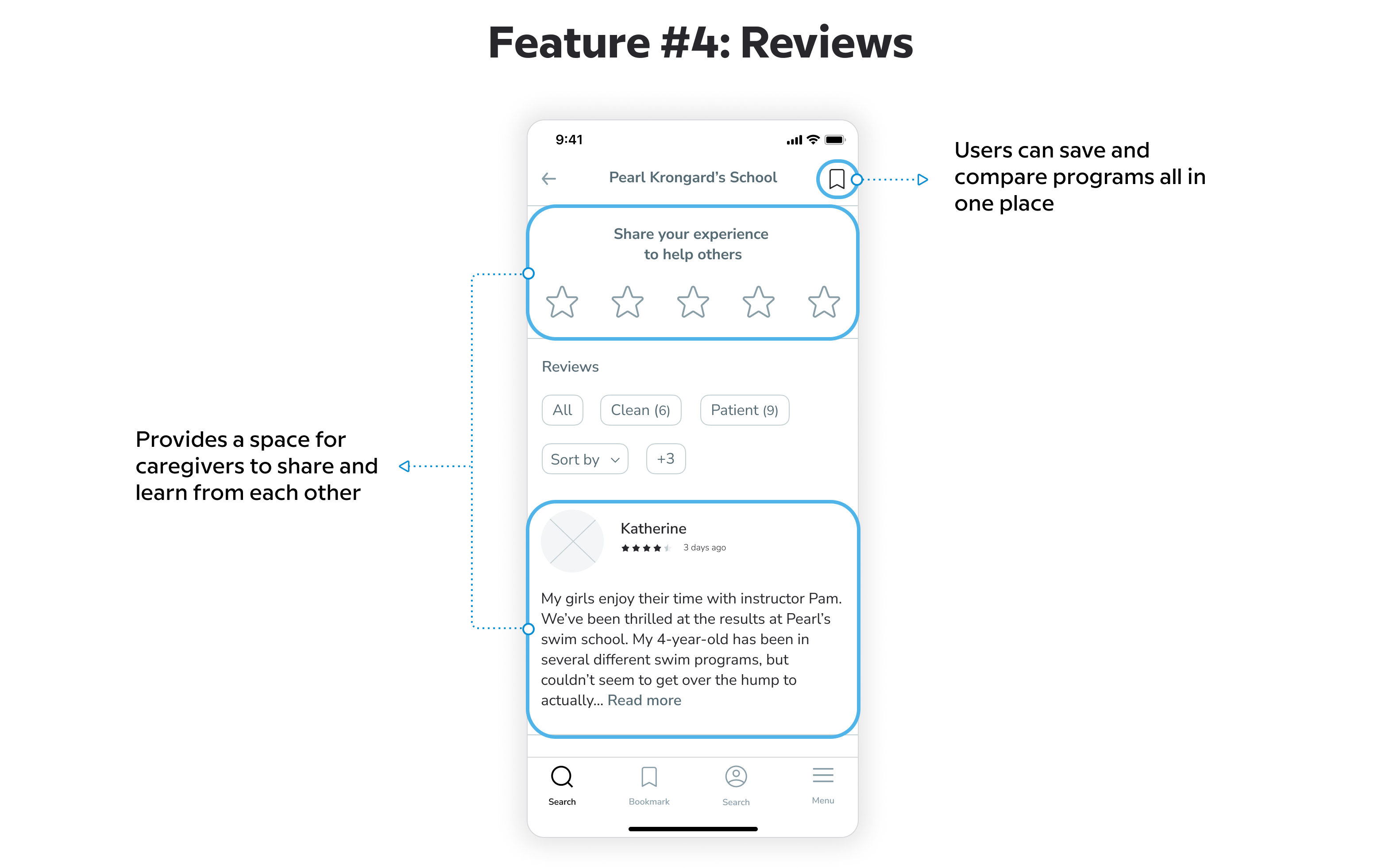 Putting my solution to the test
I drafted my final design solution into a working prototype and conducted two rounds of usability testing. Conducting testing at early on in the design process reveals design flaws early on in the process and saves development time. Overall testers found the app easy to navigate and completed most of the assigned tasks. Here are the top two prioritized issues as they required low effort changes while making the most user value impact.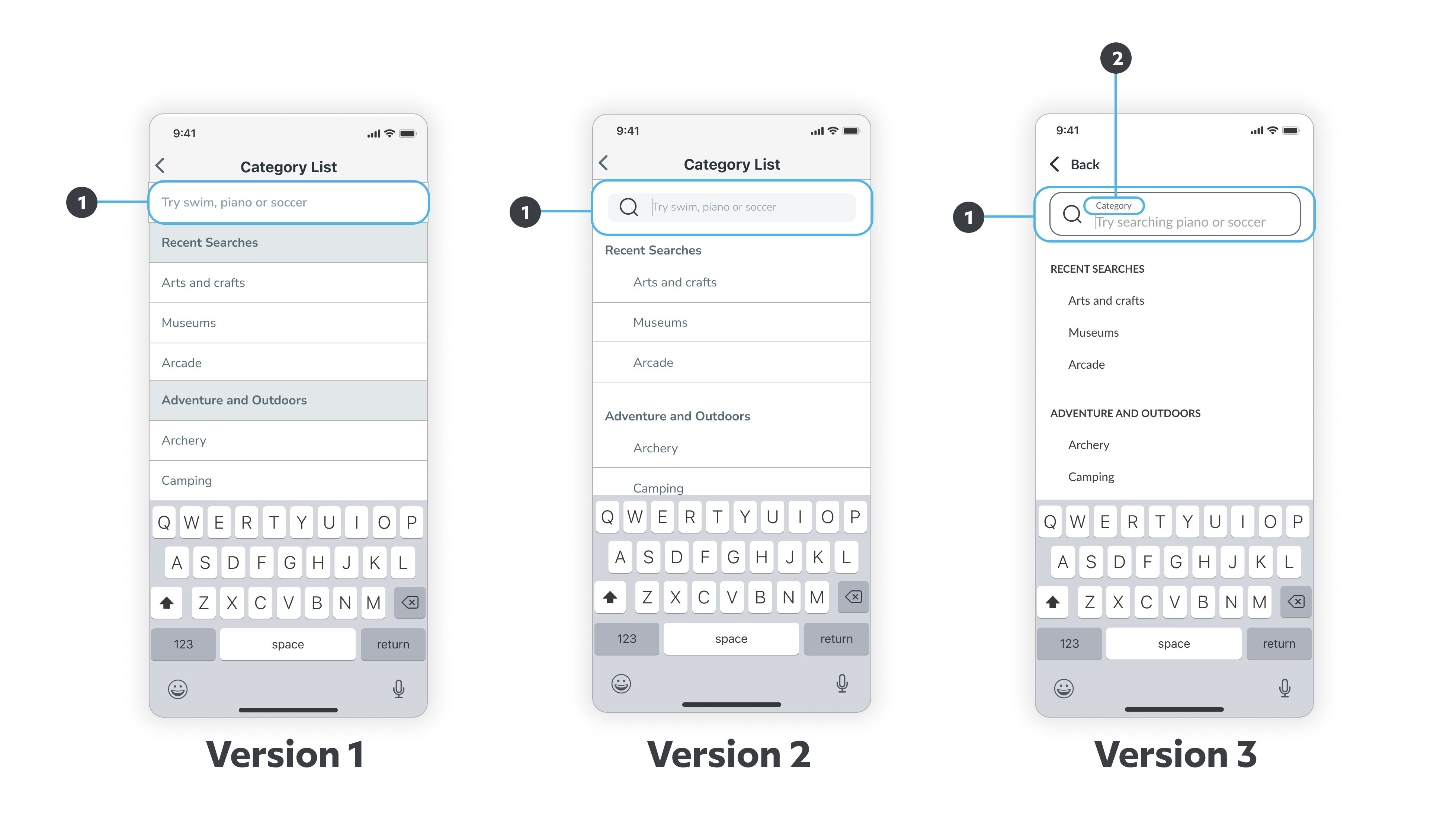 Change #1 - Category search screen
Caregivers can manually type in the program they are searching for or select it from the provided lists. My assumption was that users would scroll and select from the list as it requires less user input.
3 out of 5 users had a hard time locating the search bar at the top of the screen. The following changes were made:
The search bar more visible by making the background white and outlining it with a dark stroke.

Added field label above the input field so users always know what field they are filling out.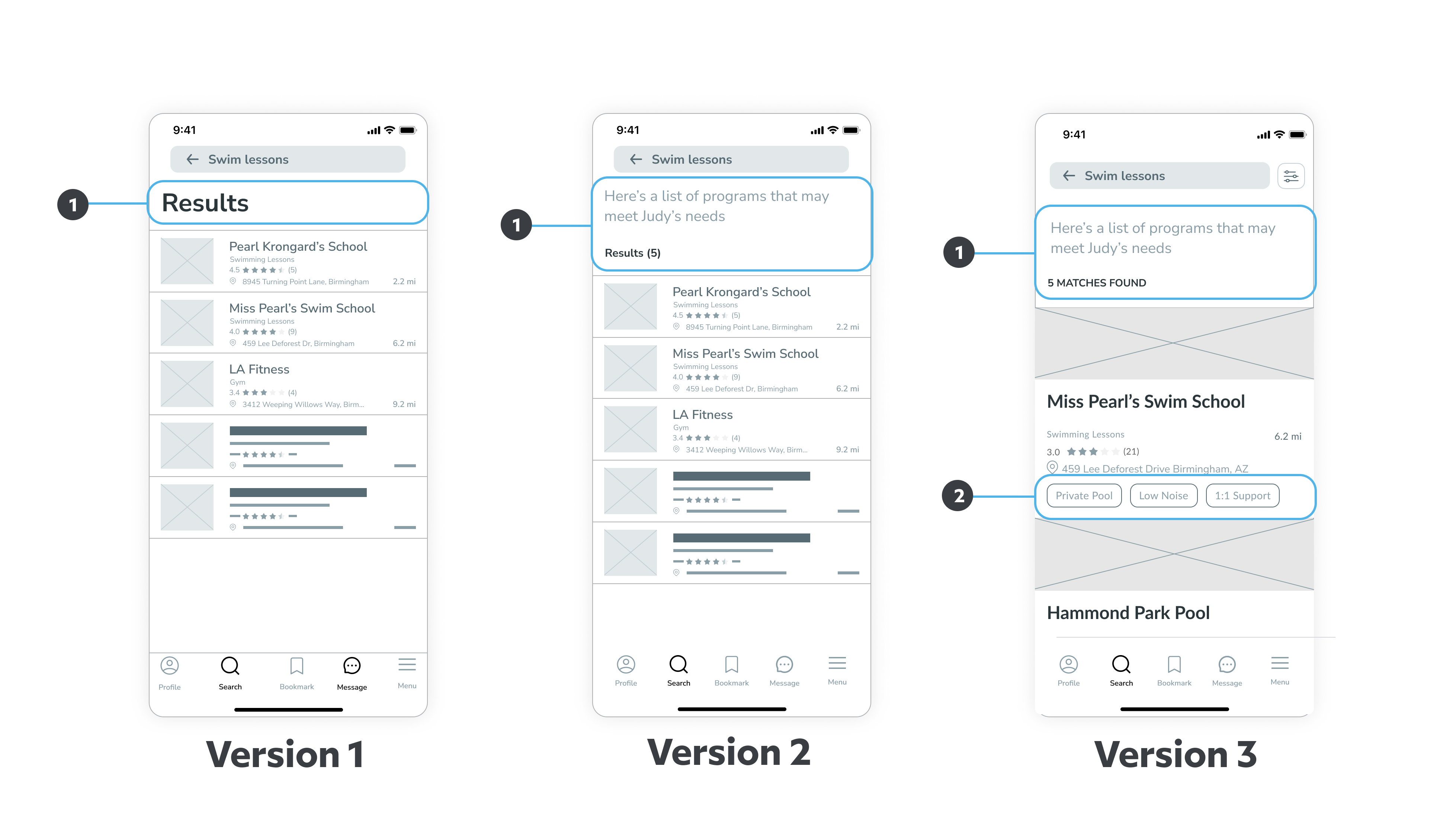 Change #2: How test results are sorted
My research showed rating and distance are secondary considerations to caregivers when they prioritize programs. I chose to sort programs by the one's that best match the child's needs. My assumption was this would save them time and they would appreciate this.
5 out of 5 users were confused of how the results were sorted. I realized this is an unfamiliar sorting method, and my design needed to provide more context that guides users. Here are the changes I made:
Clarified result and header copy so that it better communicates how the results are sorted.

Emphasized the personalization of the search by adding tags. Tags tells users the details that directly relate to their child, helping them quickly determine which programs best match their child's needs.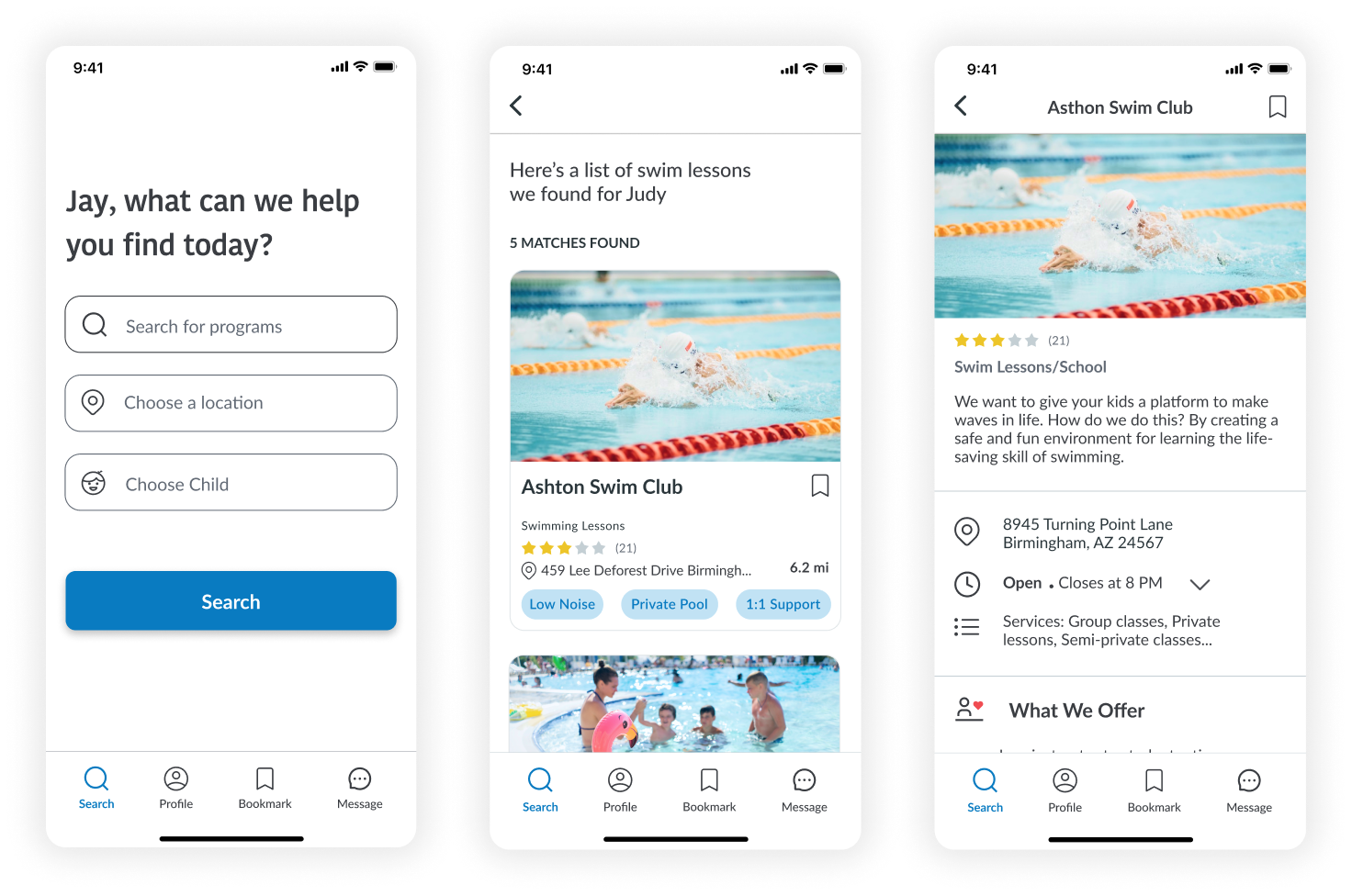 Personalized Searches
Perfect Fit provides curated lists of trusted programs that cater to their child's needs.
Physical and neurodevelopmental accessibility feature listings and blue tags highlight the nuanced needs of their child, allowing parents to determine which programs are the perfect fit for their child at a glance.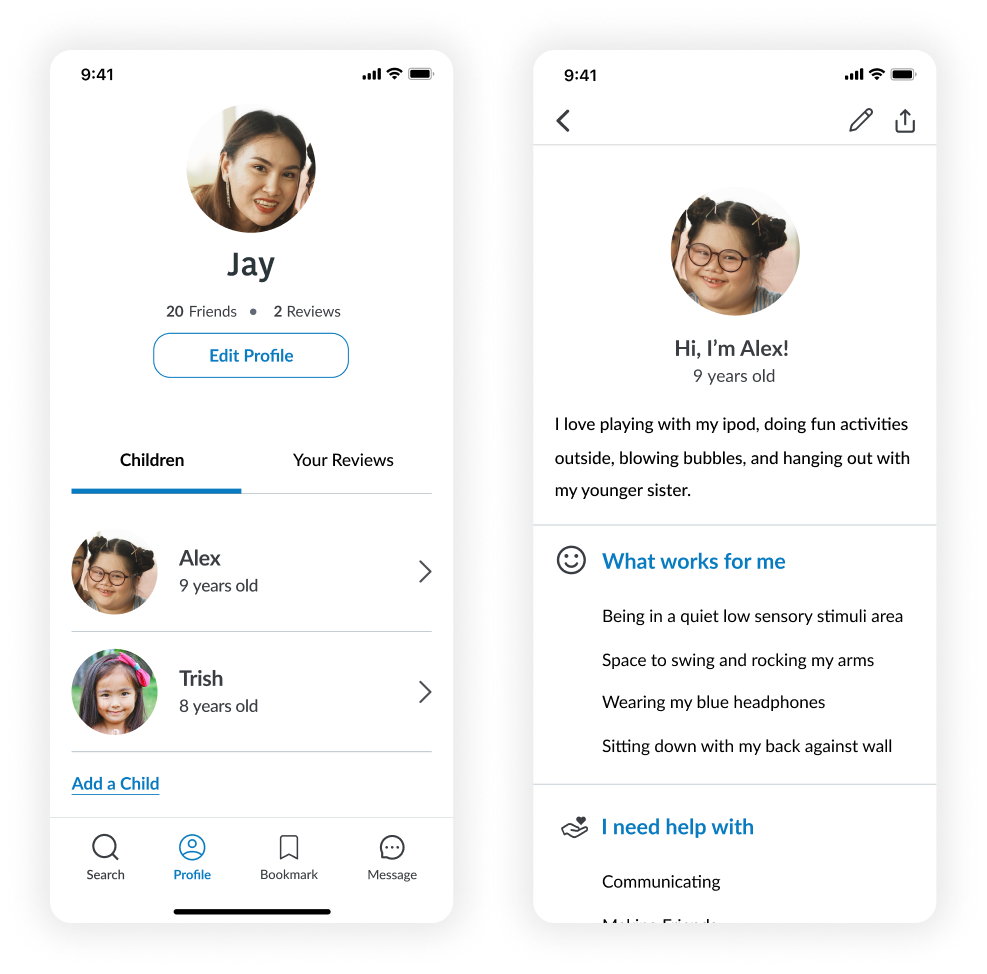 Child Profile
Every child is special in their own way. Perfect Fit makes it easy for parents to create a profile that details their child's needs so they can share their child's profile with those that matter.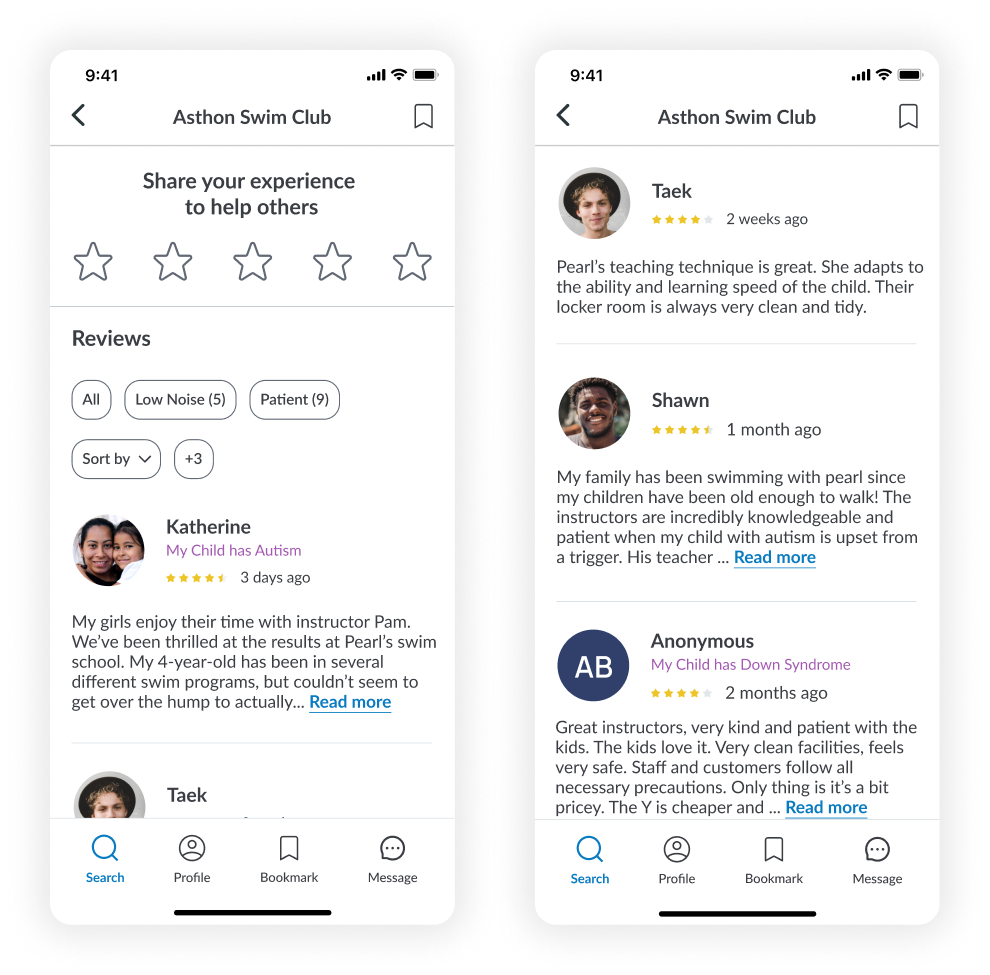 Reviews
Perfect Fit provides a single platform for caregivers to share their experiences and read experiences from other caregivers that are actually meaningful and relevant to them.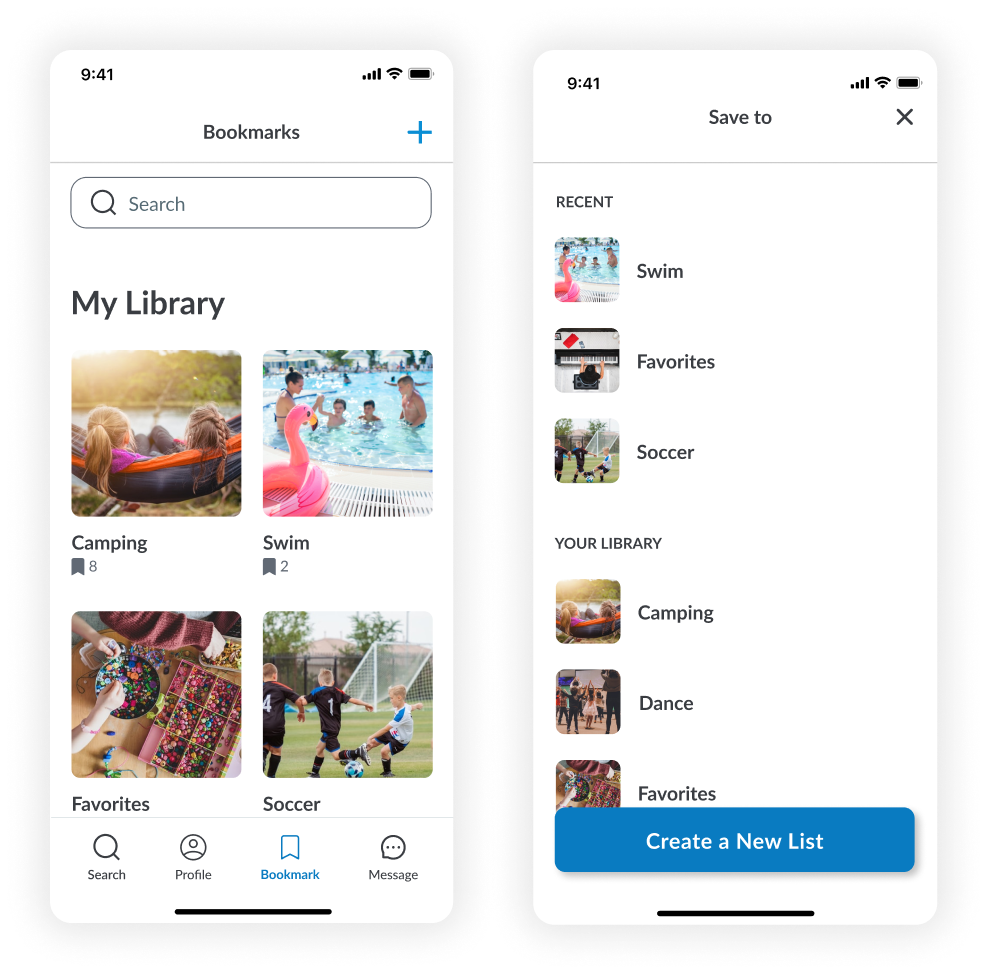 Bookmarks
Perfect Fit makes it easy for parents to save and organize programs with the bookmark feature so they can pick up from where they left off from when on the go.
What I learned along the way
Fail fast and keep iterating
The fast-paced nature of my program helped me overcome my fear of sharing my WIP drafts. Getting feedback early on helped me stay on task and craft stronger design solutions.


Be mindful of high-risk assumptions
When I first began this project, I made a high-risk assumption that turned out to be completely wrong. It's important to be mindful of your assumptions and test the riskiest ones early.


Focus on the MVP
Midway through the project, it was brought to attention that I was focusing on my secondary task flow before completing the primary task flow. I quickly reprioritized my work. It's important to regularly check in with your team and share your work.
LET'S CHAT
I'm currently looking for a full-time role as a UX designer that will allow me to use my creative muscles in research and visual design. Connect with me at kim.kerenn@gmail.com or browse through my social handles.