Designing a new feature that helps analysts monitor oil pipelines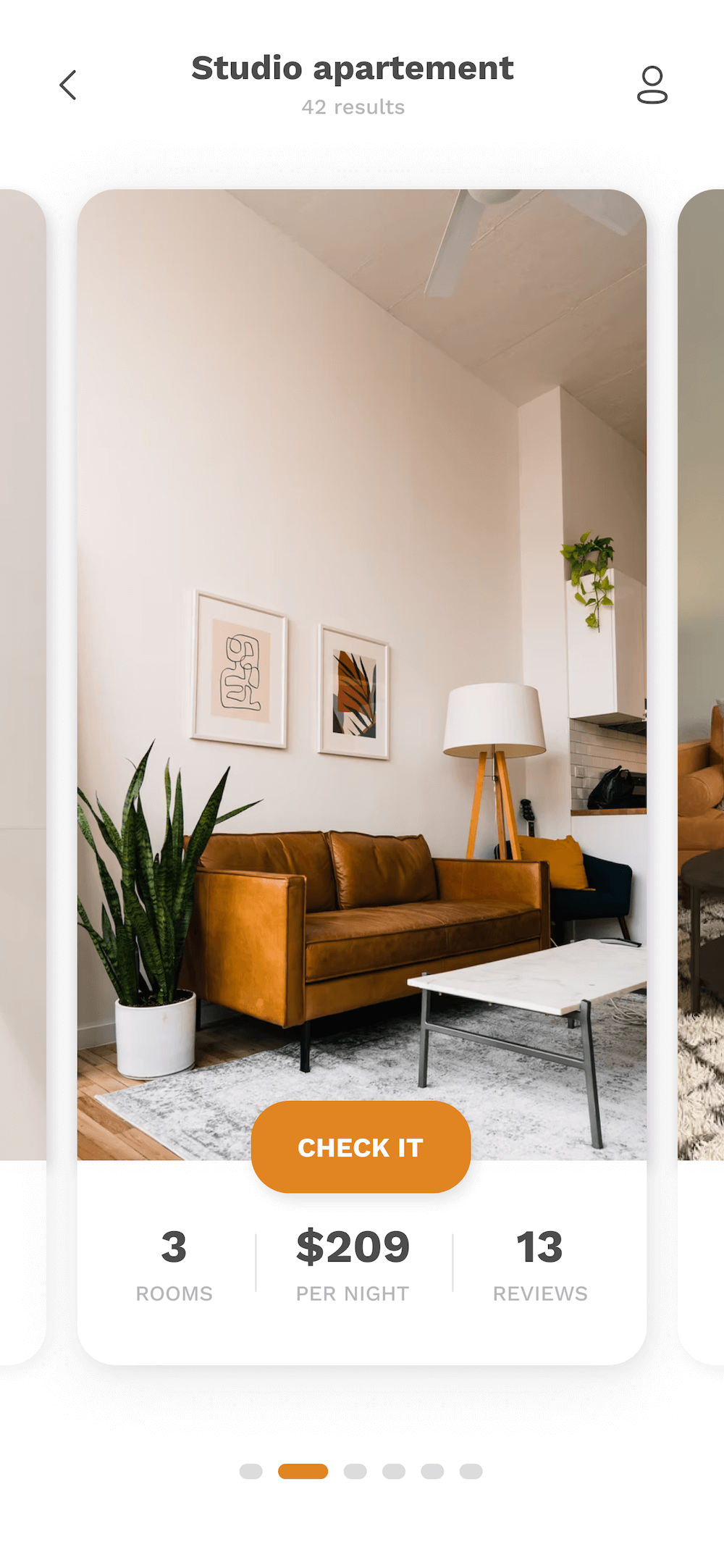 Company / SkyX (B2B SaaS)
Role / Solo designer working with a Product Manager, Backend/Frontend developers, and QA Analysts
Timeline / 2 weeks
Introducing the new flight visualization feature
The flight visualization feature is a powerful tool that helps analysts easily review complex visual data to determine which areas of their pipelines are due for monitoring. It simplifies the laborious data analyzation process by aggregating past flight paths into an at-a-glance view at smaller scales, giving analysts more time to spend on remediating problematic areas.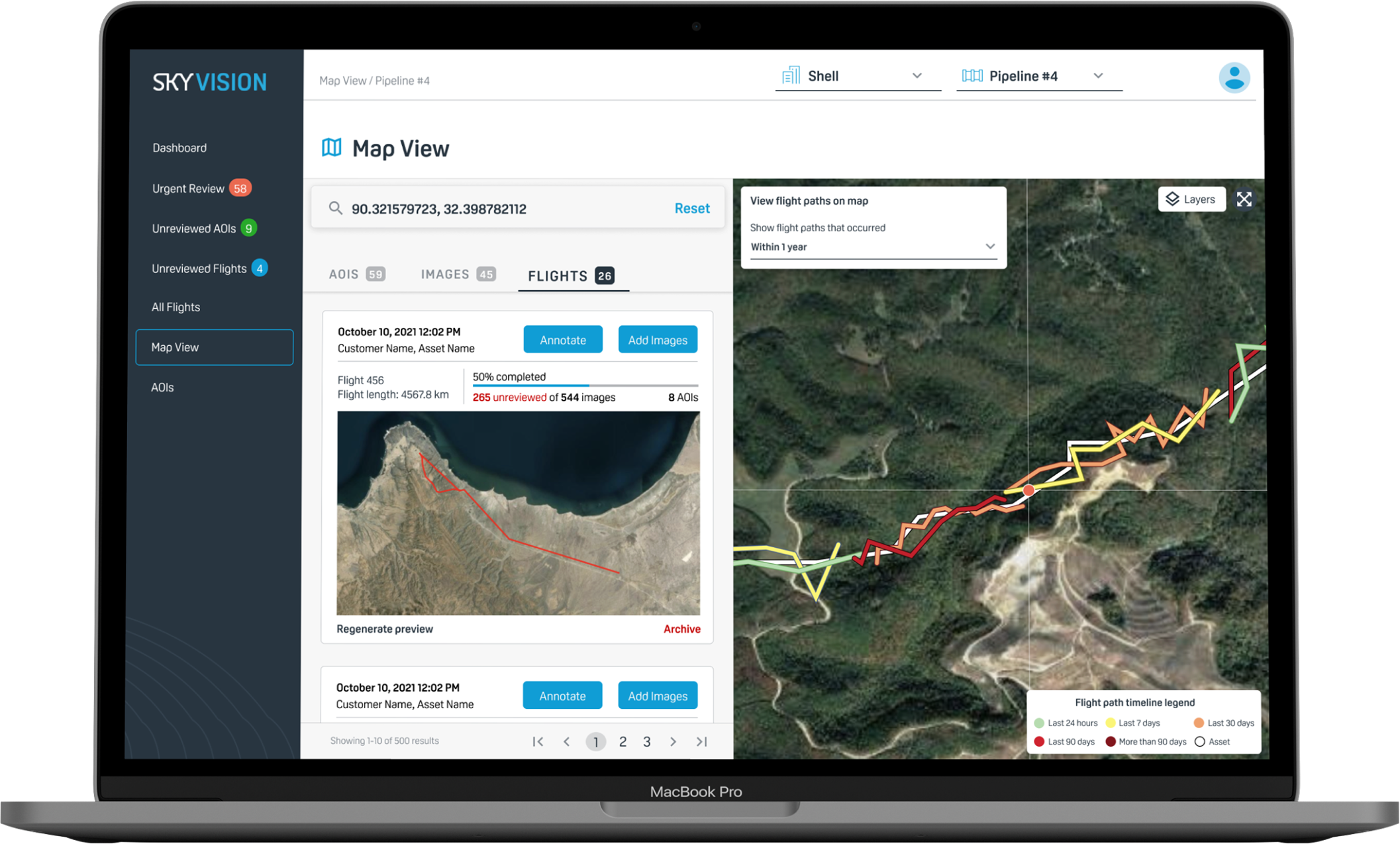 My role
As the solo designer, I designed a brand new feature that aggregates and displays drone paths so that analysts can easily determine which areas of their oil pipeline are due for monitoring.
With the Product Manager, I collected feedback via user interviews to uncover pain points and insights, created use cases and user stories to develop feature requirements that addressed analysts' needs, and offered my feedback directly with cross functional teams and key stakeholders. As the UX Designer, I created an iterative series of low to high fidelity mock-ups which helped to materialize the vision and drove us to developing the ideal solution for our end users. My designs were directly leveraged for backend and frontend development decision making. The feature is now live as part of the core functionality of Sky Vision.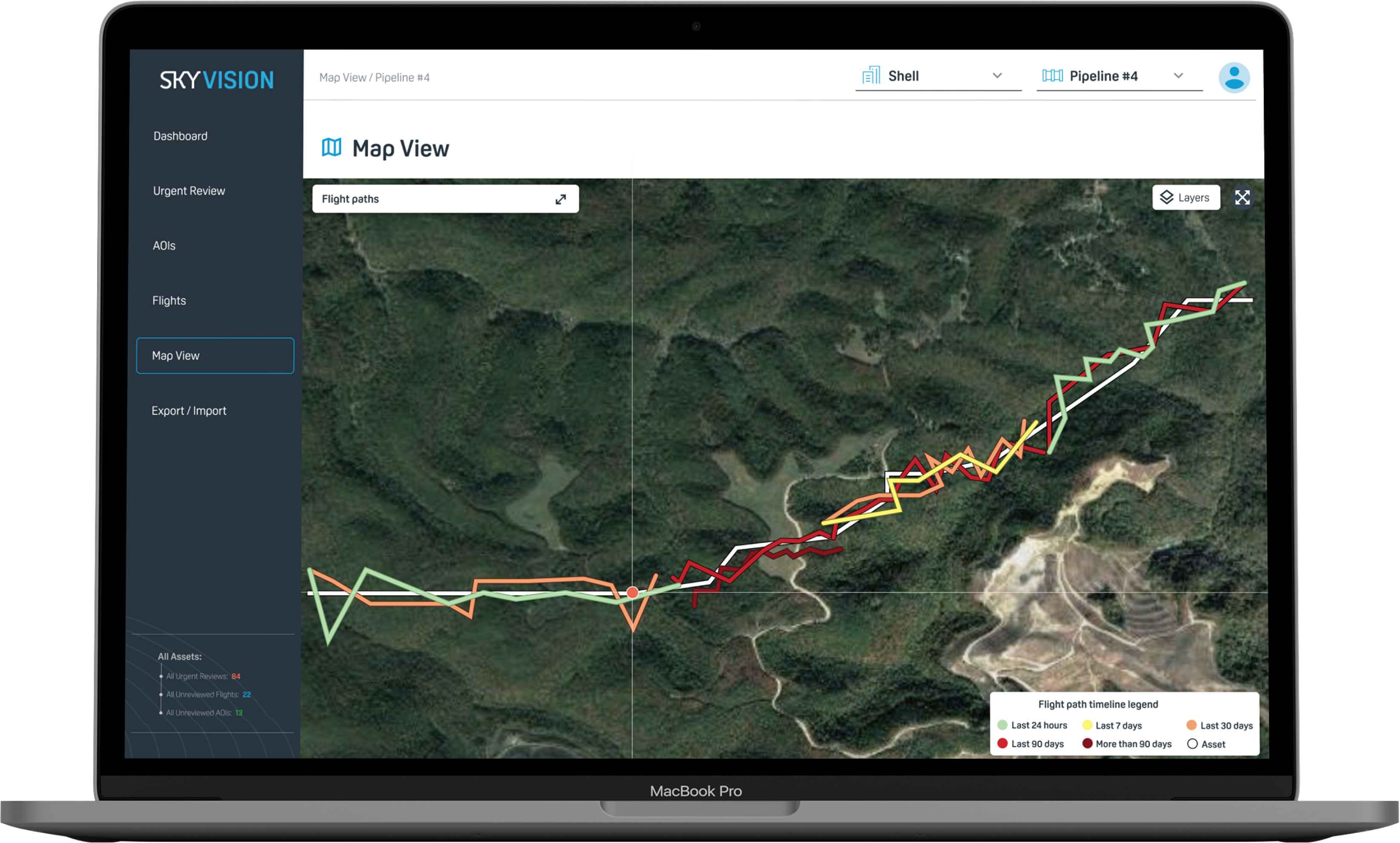 Who is SkyX and what is SkyVision?
SkyX helps oil and gas companies monitor and keep their pipelines healthy using aerial imagery captured by drones.
Through careful monitoring and analysis, SkyX enables its customers to quickly identify concerning areas, also known as areas of interest (AOI), and take immediate action. This approach limits environmental damage and saves companies millions of collars in remediation costs.

SkyVision is SkyX's B2B software app that automates converting raw aerial data into actionable insights so analysts can assess, prioritize and take action on problematic areas along their pipeline.
The problem
SkyVision's powerful drone monitoring system provides high quality footage of problem areas along pipelines.
In conjunction with this data, SkyVision captures and tracks drone flight information which is valuable information to understand when areas of the pipeline were last inspected, and which areas are due for inspection again.
To our surprise, we discovered 2 of the 5 user roles in SkyVision, customer and internal analysts, were frustrated there was nowhere within SkyVision to aggregate and visualize both the problem areas flagged, along with the drone flight paths.
Up until now the product team only focused on creating the best up-close view of problem areas so that oil companies catch damage before it leads to failure.
After processing feedback, we realized as skyVision became more integral to our analysts' monitoring process, they wanted to perform more of their duties on it.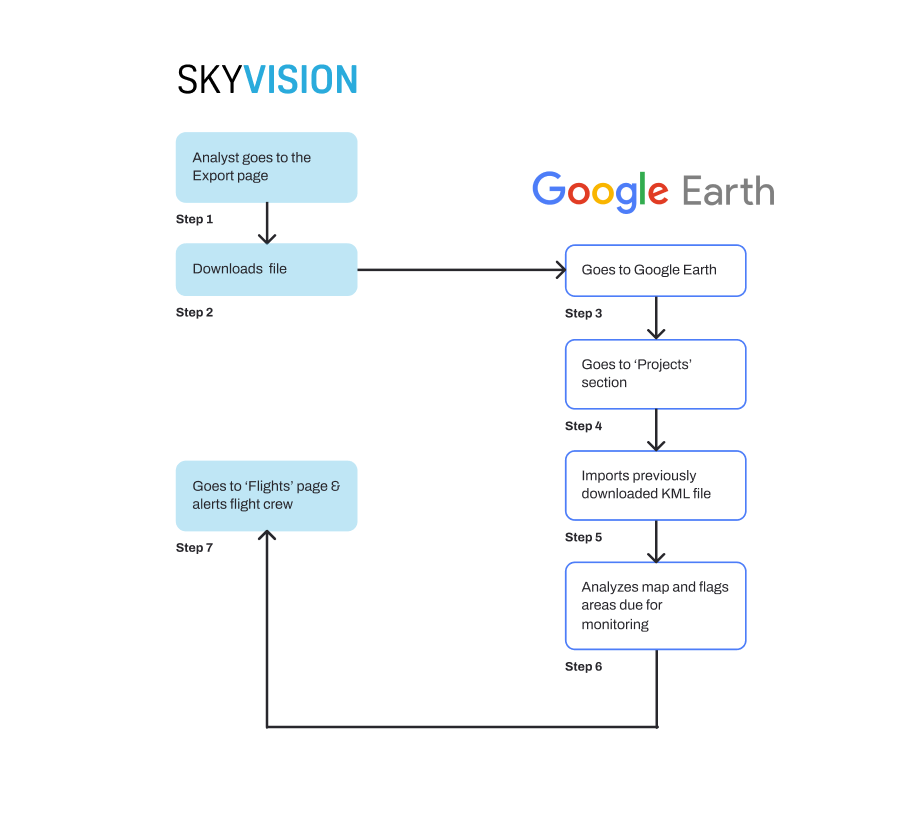 What analysts are doing today
Analysts want to audit past flight paths so that they can alert the flight crew of any missed areas.
During interviews, we learned analysts used a disjointed process that involved downloading and uploading files into Google Earth. This multi-system and manual work around was time consuming and inefficient.
This is problematic because analysts can't complete a core task within the SkyVision software.
Goals
Our vision was for SkyVision to be the foundation for continued surveillance . We want to transform our users' monitoring process from being reactive to proactive. Analysts trust our system and want to perform more of their monitoring tasks with us. The challenge was how do we provide them the tools they need?
How might we support customer analysts in determining which areas of their pipeline are due for monitoring so that they can alert the flight crew?

How might we eliminate the need for analysts to export data and upload it into Google Earth?
Our first attempt to solve the problem
With hundreds of flights flown over their large pipelines, analysts need to understand large amounts of data on a map. My earliest design challenge was to display the flight paths in an intuitive and simplified visual.
My solution was two fold: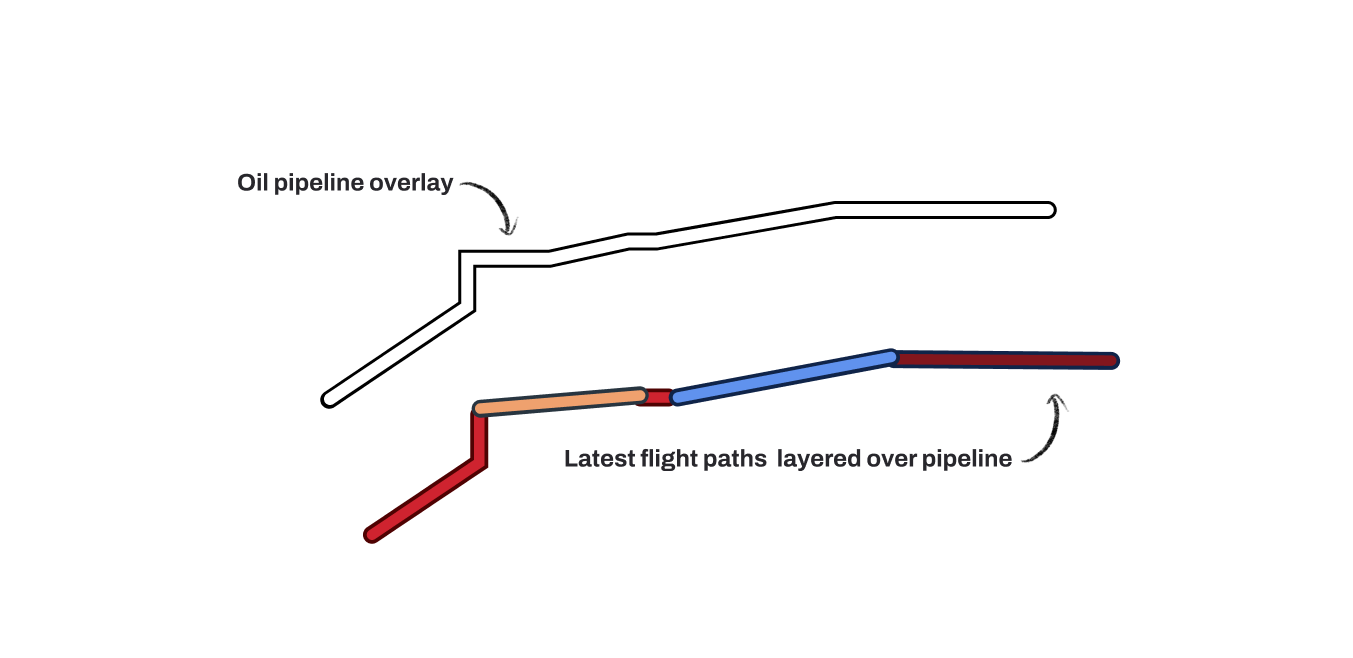 Less is more
Since analysts are assessing which areas haven't been monitored recently, I simplified the data by only displaying the most recent flights.
Flight paths are neatly stacked over the pipeline overlay so analysts can easily see which areas of their pipeline were last monitored.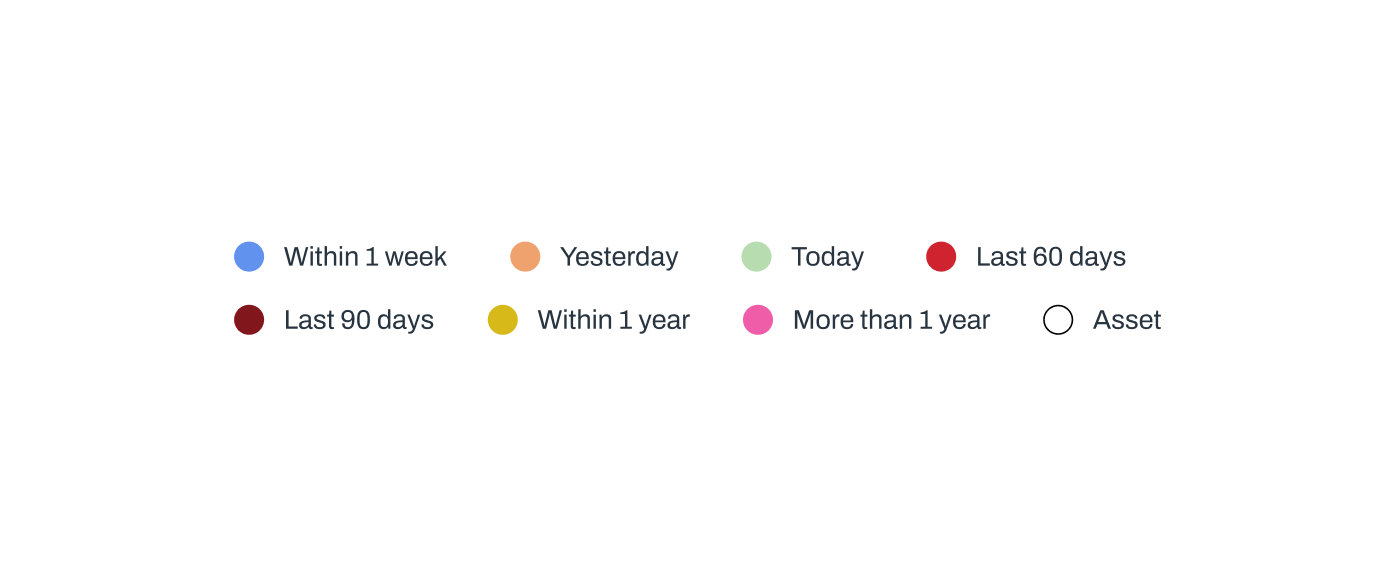 Reduce cognitive load
Next, I categorized flight paths by age. This allows customers to easily comprehend when multiple flight paths occurred, effectively allowing them to compare flight paths and quickly determine which areas are in need (or in some cases overdue) for monitoring.
Throw a monkey wrench into it
Leading up to this point, the front end engineers synchronously conducted research on their limitations with the arcGIS system. Turns out we are very limited. Here are the technical constraints I learned at this point of the process: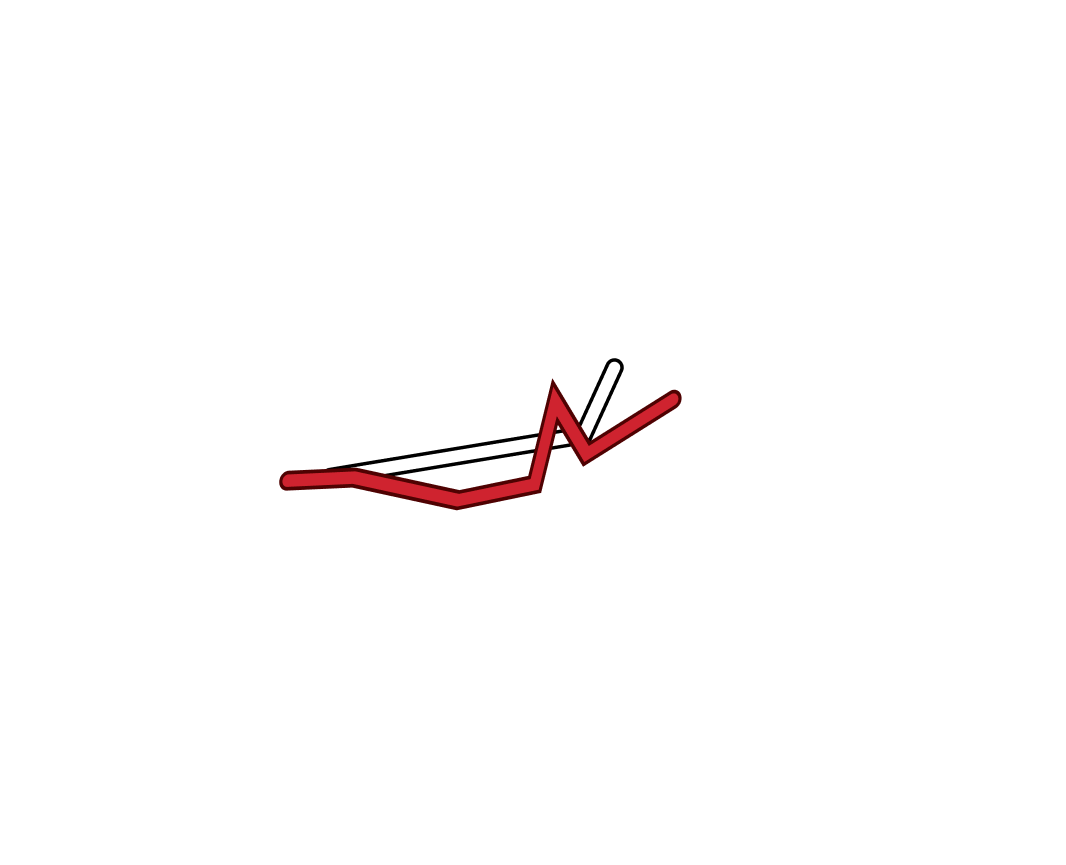 Technical constraint #1:
Only the actual flight of the drone can be displayed - we can't neatly align flight paths above the asset overlay.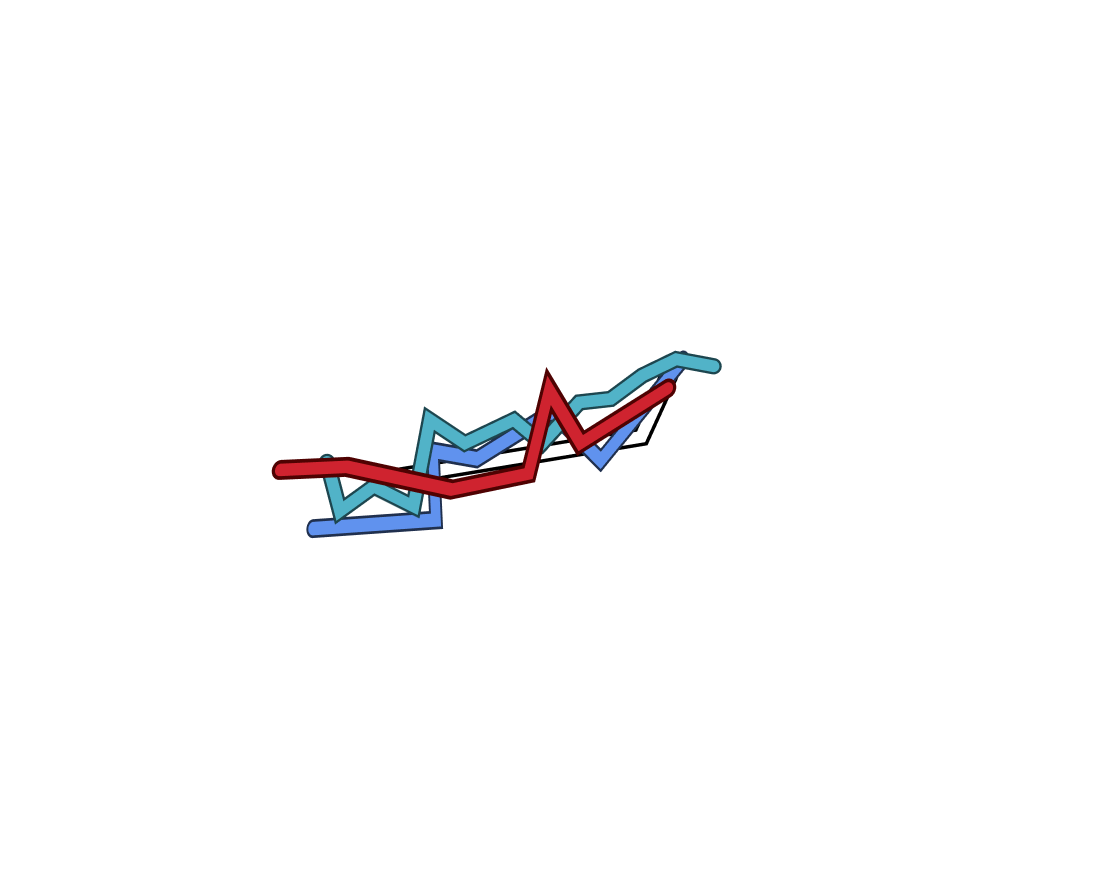 Technical constraint #2:
It's impossible to show only the most recent flight paths - meaning every flight path that occurred will be visible on the map.
Meaning two flight paths for the same area will be different since the drones do not fly the same exact path each time.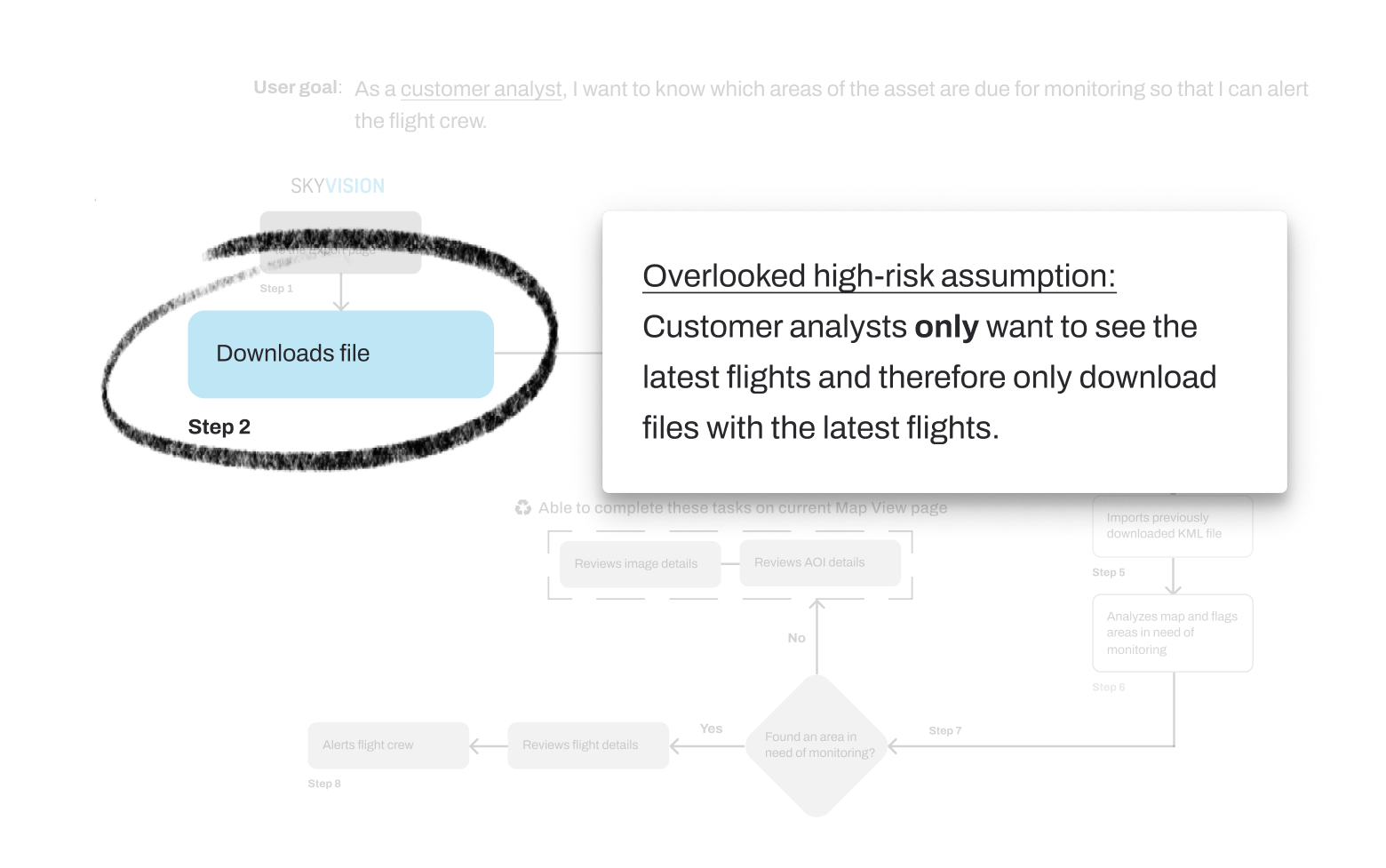 Back at square one
At this point of the project, I was stumped and struggling to find a solution. I incidentally discovered analysts frequently used another analyzation process: they commonly download files with custom chosen date ranges of when all flight paths occurred.
This made me realize I made a high risk assumption early on without validating it: I assumed analysts would only want to see the latest flights as this simplifies the data best, helping them analyze the data faster.
Turns out they do this to complete a few other tasks that I won't go into here but the most important thing to note is - I needed to better understand the common conventions built around my analyst's mental models. I conducted more interviews and worked closely with an expert end user and leveraged their current analyzation process to design reduce complexity that felt familiar.
Second attempt to solve the problem
With the new constraints, the biggest challenge was simplifying the complex data visualization.
My solution focused on leveraging my analyst's mental models by aligning the data visualization information with how they analyze flight paths today.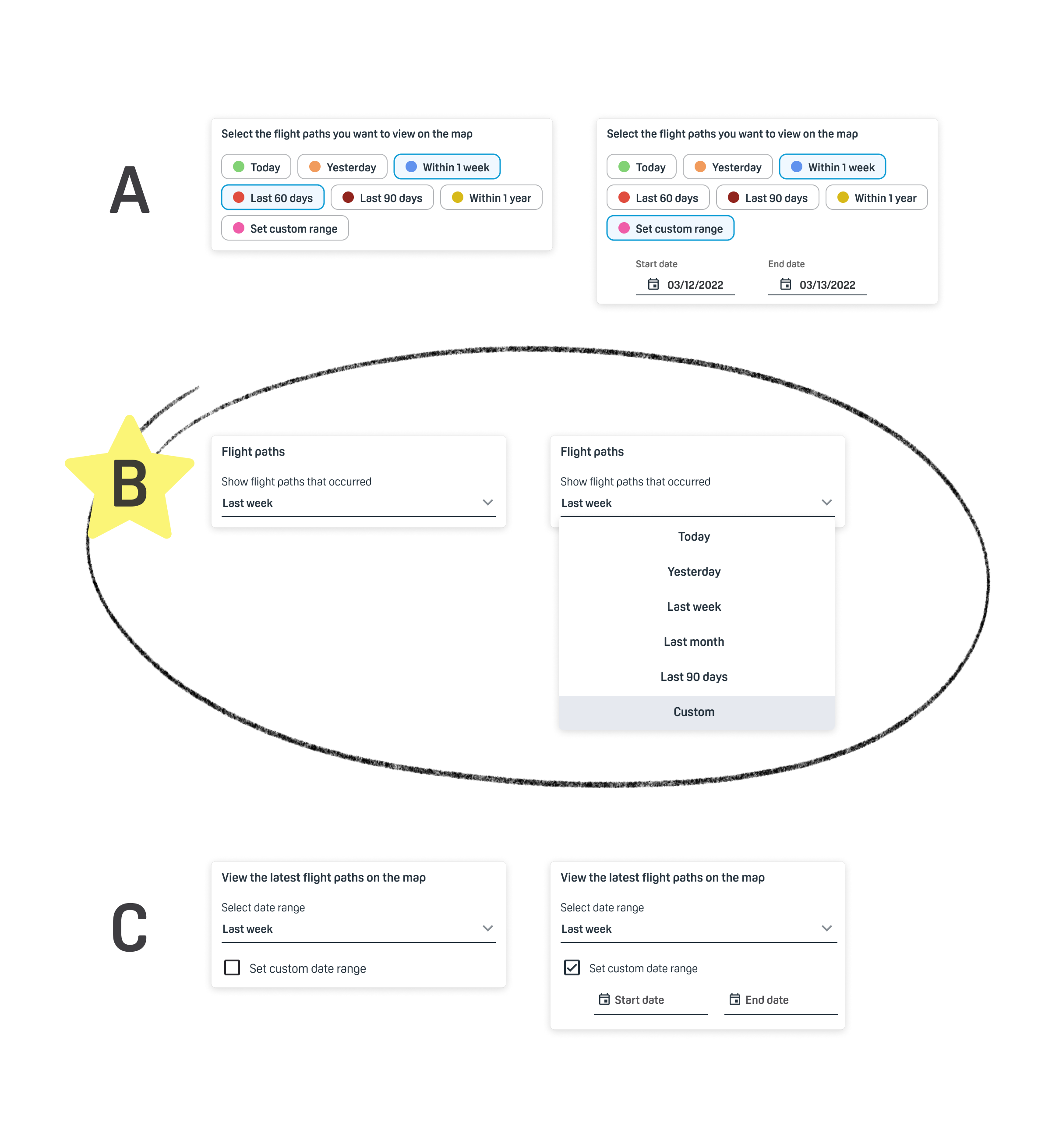 Flight path date range modal
The flight path date range modal allows analysts to choose the information they want to see. Whether it's a pre-selected date range or a custom one, they can stay on top of monitoring their pipelines.
Below you can see the three different designs I came up with. Ultimately, I chose the third one because it takes up the least amount of space on the map, making better use of space.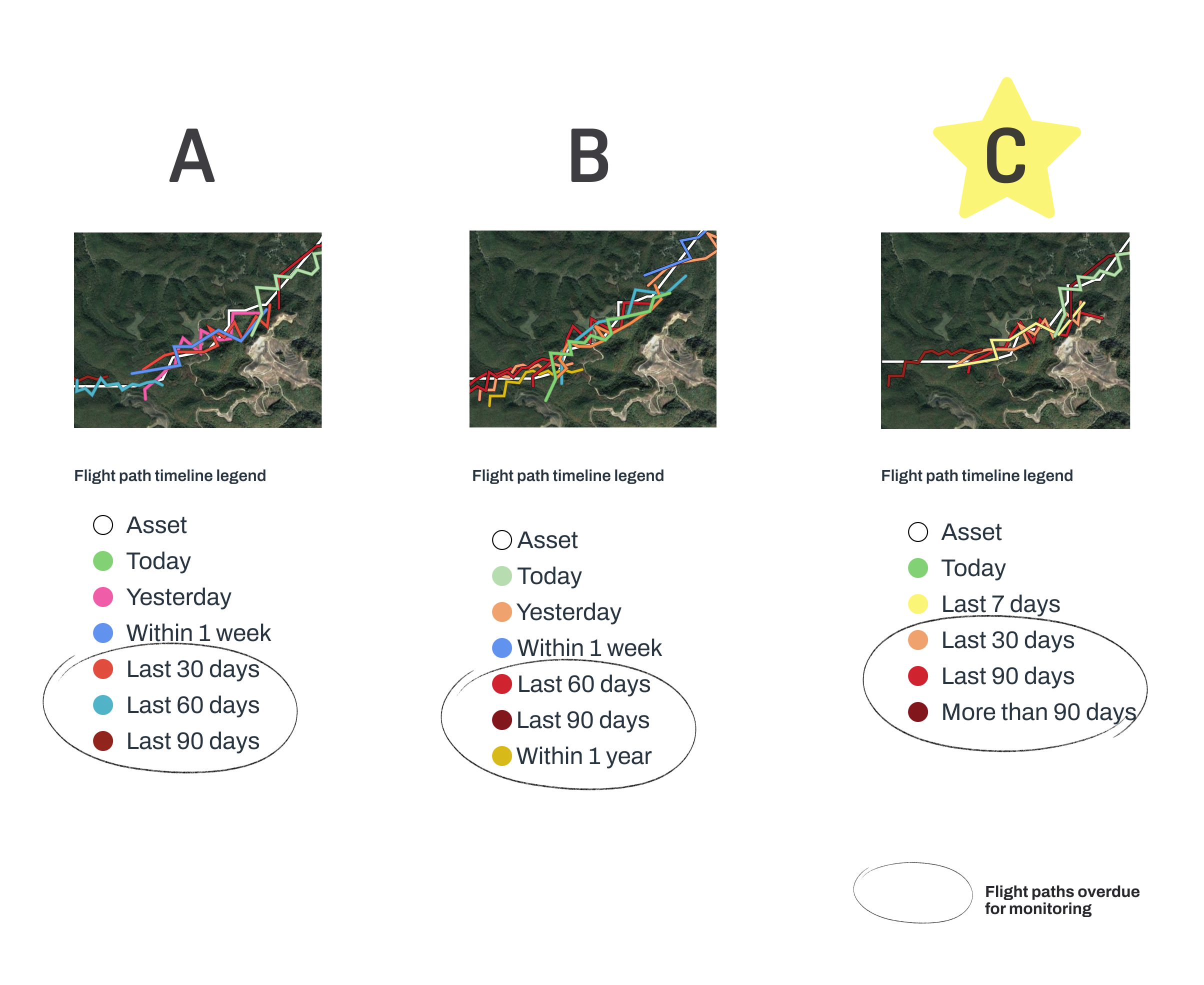 Minimize learning and thinking
I took a great deal of time and care designing the data visualization in a way that would be helpful and insightful. Repeated iterations of using real data and testing helped me get closer to my analysts' goals.
I worked closely with an expert users to understand our customer's monitoring cadences to ensure date range options and the categorized flight path ages were optimized for their analyzation. I simplified the complex flight path data by reducing the total age categories of flight paths from 8 to 6 so they can compare flight paths more easily.
I also reduced cognitive load by making the colors more intuitive; recent flight paths are green and older ones due for monitoring are shades of red.
Redesigning the left side panel
As I tested out my flight visualization feature with real data and conducted user testing, I noticed the left side panel needed a redesign for the following reasons:
Positive feedback
We received both positive and negative feedback since we launched the new flight visualization feature. Analysts responded well to the flight path modal and the color-coded flight paths. Unfortunately, negative feedback largely related to long loading times between searches
when selecting specific date ranges. The development team is currently working to optimize loading times.
Thank you for stopping by!